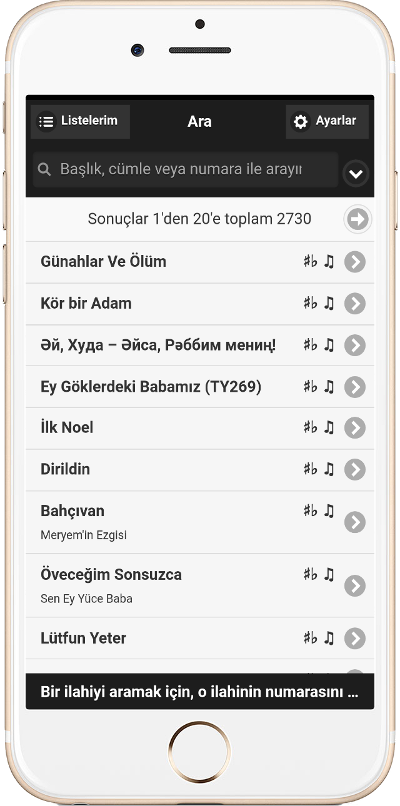 Languages
Worship Leader focuses mainly on minority languages and is not aimed at English language users. Some examples of languages currently available in the app:
Turkish: over 1600 songs and 1200 MP3s, many of which have original English words linked - includes Tanrı'yı Yüceltelim and Tanrı'nın Çocuklarıyız song books. Interactive sheet music for over 200 songs.
Mongolian: 850 hymns and songs, 50 MP3s - includes Магтаалын дуу song books
Inner (traditional) Mongolian: 100 songs and some MP3s
English: List of all songs that have been translated into other languages, and including all 300 Open Hymnal songs' interactive sheet music and audio.
Hakha Chin (Burma): Over 500 songs
Hausa (Nigeria, Chad): Over 650 songs and 450 MP3s
Kazakh: Over 500 songs, 300 MP3s in both Cyrillic and Arabic scripts - includes Рухани Әндер Жинағы
Uyghur: Over 250 songs and 200 MP3s in both Cyrillic and Arabic scripts - Includes Муһәббәт җамаити, Ибадәт нахшилири and РӘБНИ МӘДҺИЙЛӘНЛАР
Uzbek: Over 500 songs and 350 MP3s
Tajik: Over 350 songs and 350 MP3s
Russian: Over 200 songs and 60 MP3s
Turkmen: Over 200 songs and MP3s
Central Asian Russian (for Muslim-background believers): Over 80 songs and MP3s
Russian: Over 200 songs and 50 MP3s
Kyrgyz: Over 400 songs
Kurdish (Kurmanji)
Karakalpak: 30 songs and MP3s
App features
Turkish, English, Kazakh (Cyrillic and Arabic), Mongolian, Uyghur (Arabic) and Russian user interface languages
Search by song number, title or phrase
Advanced filters searching for song - only those with chords, mp3s, sheet music, translations, or search by tag for specific themes eg related to Christmas or Kids worship
See translations of songs
View sheet music offline in the app or download it for over 800 songs. Transpose the sheet music automatically.
View and transpose chords for songs
Over 4500 MP3's available to download, once downloaded it will cache them so you can play them without an internet connection.
Create sets of songs you want for a particular worship event, share them with your fellow musicians
Easily share individual songs via email, whatsapp, facebook etc
Projection mode for easy projection onto a screen
Automatically generated OpenSong format song databases for easy projection
Please contact us for access to the central database allowing you to upload your own songs and update others.
Disclaimer
Whilst we try our hardest to ensure that all lyrics and recordings are either public domain or licensed for our use we may occasionally make mistakes in the vetting process. If you believe that we have made a mistake regarding the legal availability of any song lyrics or recordings, please contact us at info@worshipleaderapp.com.